A lot of important news from this end of the summer and for the autumn 2023
Letter of our founder Anna Filimonova-Masson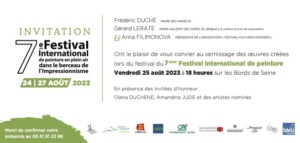 Anna Filimonova-Masson, artist and art curator  is happy  to present to you  her most important event of the year the THE 7th INTERNATIONAL OPEN AIR LARGE FORMAT PAINTING FESTIVAL In Normandy, city of Les Andelys in 1 hour from Paris and 20 minutes from Giverny and Claude Monet Estate with water lilie
Our most important date with preview of Art Work was  in August 25  with Oppeninng of the festival's Exhibition on the Seine River
See here all details about the program, masterclasses, demonstrations that was done on the festival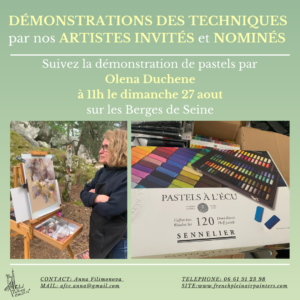 Festival took place in Les Andelys from August 24 until Sunday August 27
I am very proud that it will be 10 years anniversary of my Plein air organisaion acitivités. From the first Plein air Competition started in 2013 in my favorite tinny village in Normandy whre I still  have my summer's studio and  iI organize a lot of Anna's Filimonova teaching workshops and masterclasses.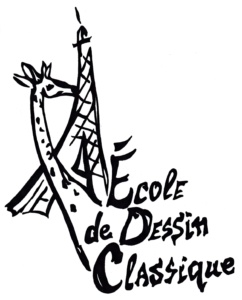 At September I will invite you to follow the adventure of our plateforme Frenchpleainairpaters.com with some paint out days
and in October the 3-d Scolar year of our Classical Drawing School  will start.  This is a young art scholl that I I founded with my collegue et comptatriote Artist Natalia Leybina.
As well as it is not easy to talk about « Russian compatriots » nowadays we are nevertheless proud to continue the method of teaching the traditional art from which we have benefited that we intend to continue and transmit in this art school. We are happy that our school is installed in the very important historic place the Rachmpaninoff Conservatory that celebrate in 2023 100 years of it's activities for service of Russian culture and history. This place was frequanted by Shaliapine and Diaguliev and now our students go in the foot steps of a lot of important figures fro XX. Other nice detail the school is situated just in front of Eifell Tower on 26 avec de Neyx York 75016 Paris

Please feel free to share if you know some friends who can be interested.
I have two exhibitions planed in the October, – one personnal in  a very nice place – the Moulin de Fourges, (old water mill now art hotel)  with vernissage on October 5
and  second one where ! am  invited to take part in Academie Boitat Exhibiton in Barbizon-this oppennign will be on October 7
Of course I will sent you more information more closely to this dates;
And before – very soon on September 7 I advice you to visite a part of France Design Week and discover a original presentation of furniture Qurt with the selection of Kojiro Akagi's art work
So you will receive more details informations about it from   Jean-Luc Masson and his Fond de Dotation de Kojiro Akagi
that is going to entry in his new period – with 2 more new exhbition's space (thank you Plastil our new sponsor with partnership with QURT Design furniture ) at Swiss Village. They will be a part of Paris Design Week
You can follow him on instagram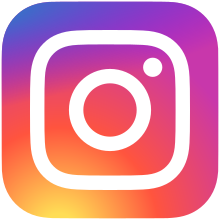 @galeriedeparis_best_view
I am also activ in this social medai @https://www.instagram.com/annafilimonovamasson_art
with my plein air plateform @birthplace_of_impressionism
and my art school  @ecole_de_dessin_classique
So hope to see you or to hear from you soon
This time it is not easy to continnue to work. But we really need to continue to stay in touch and try to appreciate the moment of happiness, good health o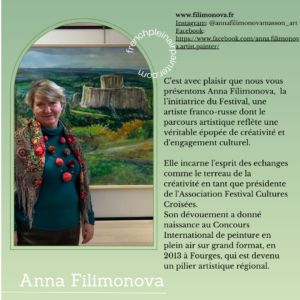 f our families and friends and share our freedom.
Please pay your attention that I hade recently a lot of technical problems with my e-mail, may be you do think that I did not answered to your message ? It is probably wrong, I always try to respond as soon as possible, but last time many mails that I wrote did not riched their address ! This is random problem come and gone, and Infortunately ii is not absolutely resorlved so, let's use social media, and phone and whats app. it is easy to contact me by phone,  Hope to read your reaction, answers, news, let's stay in touch !
I wish you good Automn season .
Kind regards
Anna Filimonova