Dear friends,
Firstly, thank you to the many artists from this platform who took part in the International Festival of Painting en plein air at Château d'Ainay-le-Vieil.
You can watch the news story about the festival here.
---
The next event to which I have the pleasure of inviting you is the France Galop Competition which will take place the 3rd July. Enrolment for the event is FREE, but the prizes are very good :
1st Prize – 1200€
2nd Prize – 900€
3rd Prize – 600€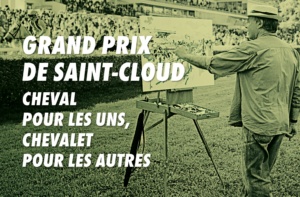 This is a truly unique event – an entire day of plein air painting around the theme of the horse. To participate in this competition, which will take place at the Saint-Cloud hippodrome, candidates must simply register here.
Participating artists can set up in the place of their choice overlooking the hippodrome. To participate in the selection and be in with the chance of winning a prize, works must be finished before 16h30.
More information here.
---
From the 2nd to the 9th July, Anna Filimonova has been invited to take part in a plein air event organised in Holland. Follow the link here for more information!
The artistes are invited to Katwijk on Saturday 2nd July. From the Sunday, they will paint at Katwijk and in the surrounding area – on the beach, the dunes and in the villages of Katwijk, Rijnsburg and Valkenburg. The exhibition will be set up during the week of painting, and will be open to visitors from Saturday 9th July. Anna will be talking about the opportunities in Holland, a country which boasts several plein air events. If you are interested, stay updated on the plein air Facebook page, and at Anna Filimonova Artiste.
---
The following event will be the traditional "Concours de Magné en Charente Maritime". The dates of the 34th edition are Friday 22nd, Saturday 23rd and Sunday 24th July 2022.

---
We will also be proposing outings during the second half of July (details to follow).
I look forward to seeing you again !
Anna Filimonova