News story on the 6th International Festival of Painting en Plein air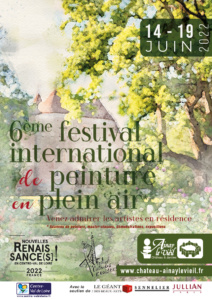 Between the 14th and the 19th June 2022, the 6th International Festival of Painting en plein air took place at Château d'Ainay-le-Vieil. The festival, organised by the Association Festival Cultures Croisées, united 30 artists from 11 countries to celebrate the art of plein air painting. Inspired by the impressionists Monet, Gauguin and Pissarro, the artists created one work per day on a large format canvas.
Despite the high very high temperatures (38° in the shade!), the artistes were still able to capture the imposing silhouette of the castle, and the diverse beauty of the chartreuses and rose gardens. Participating artists benefited from a guided tour of the remarkable gardens from the owner of the Château, Marie-Sol de la Tour d'Auvergne, who offered fresh perspectives to help the artists with their creations.
The works created by the painters during the week were shown at the Musée des Arts et Traditions Populaires in the grounds of the Château. Madame Sartin, the mayor d'Ainay-le-Vieil participated in the awards ceremony, accompanied by Madame de la Tour d'Auvergne, Madame Anna Filimonova, creator of the festival and president of the Association Festival Cultures Croisées, and the vice-president of the Association, Monsieur Didier Martin.
The guest of honour this year was Ukrainien artist Andrii Kovalyk, who gave a demonstration about how to use plein air materials.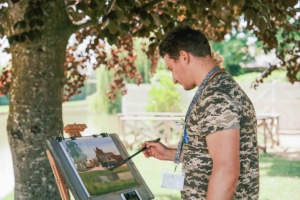 Portrait sessions also took place during the weekend, to offer the public the chance to benefit from the painters' talents.
The weekend was even punctuated by a visit from the France 3 Val-de-Loire team, who filmed a story on the festival. ( to see on replay)   or Available to view here on our Facebook page.
The week ended successfully with the sale of ten artworks created at the festival during the week.
Anna Filimonova and her team wish to thank everyone for their participation in this fantastic edition of the festival.
In 2023 the festival will return for its 7th edition in Les Andelys. More information will be published very soon so stay tuned!
Take a look at our goodbye from the Château!    
See the complete report