Noonan Isabelle
Art does not reproduce the visible. It makes it visible" wrote Paul Klee.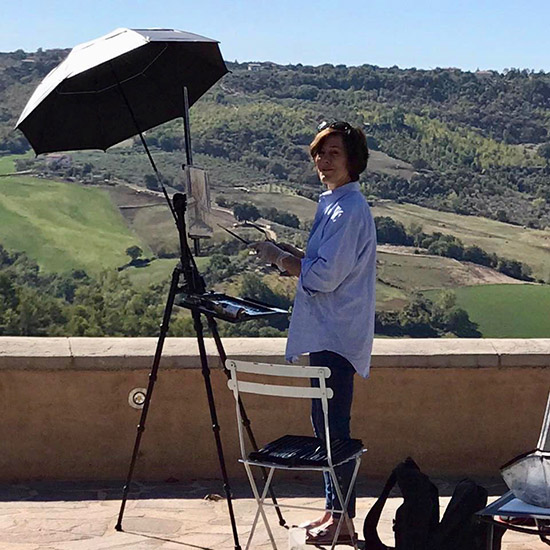 Isabelle Noonan, a graduate of the Louvre School, worked for several years in the Conservation and Restoration Workshop at the Whitney Museum in New York and then in Paris, where she currently lives. This dual training, historical and technical, remains a constant reference for her.
Isabelle Noonan's painting is a figurative painting that has its source in the motif and mainly in the open air. A true passion for this painter who loves nothing more than to leave with her easel, her brushes and her colours. Whether it is landscapes, urban views… it is not a question of reproducing what she sees but of reinterpreting it, of retransmitting the particular emotion she receives from it.
Perhaps the most characteristic feature of his painting is light. It is it that gives life to shapes, brings strength and beauty to even the most banal compositions, gives colours their true value…
Trained in contact with the best painters, Isabelle Noonan often participates in painting festivals in Europe or the United States. She thus feeds on encounters with other artists who share the same passion. Back in his studio, his research remains identical whether it is on still lifes, portraits, landscapes started outside or on his own compositions.
Contact: Isabelle Noonan, noonan.isabelle@gmail.com
https://isabellenoonan.com/