Delannoy Isabelle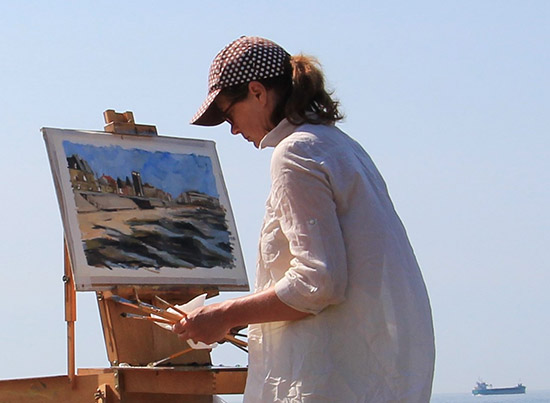 Isabelle Delannoy is a French Artist, who graduated from the Conservatoire National des Arts et Métiers and trained further to the oil painting techniques in the workshop of Philippe Lejeune (Ecole d'Etampes, France) and Pascal Vinardel (ENSAD, Paris).
Qualifying her compositions as "inner poetry", Isabelle Delannoy transmits her vision to the world.
Between figuration and abstraction, her landscapes bear witness to a certain passion for color and matter.
A gentle and sensitive palette in the pursuit of a poetic reality…
Colour is central to her work, and she creates her colours from a restrictive palette, composed of natural pigments and carefully crafted until it reaches the intended harmony, which confers to her sober and vigorous painting a unique and intimate atmosphere.Their colours are never bright but much more like colour tones, nuances, earthy and a wide variety of ochres. Isabelle Delannoy mounts the layers alternating work of material and glazing in search of a dimmed figurative art leading to abstraction, allowing a touch of unreal into her scenery enshrouded with poetry. The artist masters every step of the oil painting art, ranging from the priming of the canvas to the crafting of the pigments and mediums.
The compositions of Isabelle Delannoy blossom, nourished by delicate and warm harmonies which she exalts in series telling a story, revolving around a single subject inviting the "observer" into a poetic reality, where the structure of the ensemble is essential.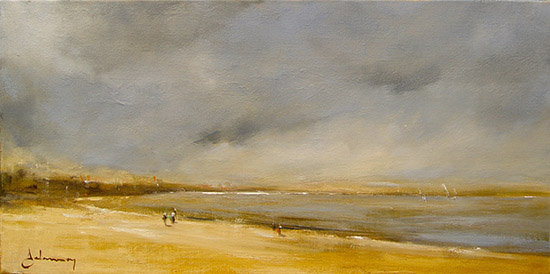 In 2011, Isabelle Delannoy established her workshop within the Marché Dauphine, at the heart of the International Flea Market of Paris-Saint Ouen. A place where Isabelle Delannoy welcomes private individuals all year long, art collectors from France and abroad but also invites interior designers into her unique artistic world, for either orders or direct purchase.
In 2019, she opened a second gallery at Marché Biron, International Flea Market of Paris-Saint Ouen.
For her work, Isabelle Delannoy has received numerous awards, including three consecutive awards at the Salon des Artistes Français in 2005 (Madeleine Paillard award), 2006 (Marin award) and 2007 (Bronze medal). She was Laureate of the Société des Artistes du Val de Marne in 2009 and the Navy Biennial in 2010. She is also a member of the Taylor Foundation.
In 2019, she is invited to China as part of an artist residency for a month and a half at the end of which her works go into collection in the International Art Center of Shangjin, Yunxi – Hubeï, China.
Her works appear in numerous private and public collections in France and abroad.
https://www.isabelle-delannoy.com
https://www.singulart.com/fr/artiste/isabelle-delannoy-1656
https://cornerart.fr/talents/isabelle-delannoy/
https://www.instagram.com/isabelle_delannoy/
https://www.facebook.com/isabelle.delannoy.39

https://www.marchebiron.com/les-artisans/itemlist/user/707-isabelledelannoy