Summer 2020. CALL for Artists ! Paris in August is full of caracter, Paris will be ours ! Last time to register – before August 20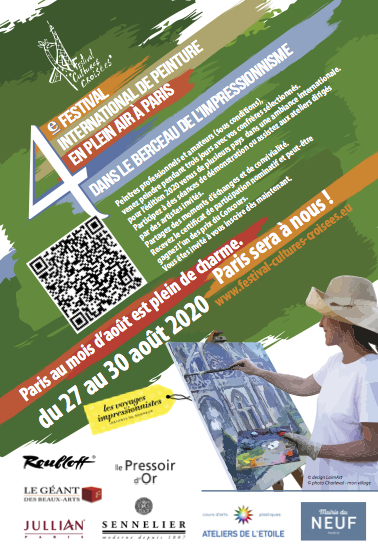 ➢ the 4th International Festival of painting
in Plein Air will be held in PARIS.
2020 August 27 -30
Artists will have the opportunity
to paint a few emblematic sights in our beautiful city.
The Festival 2020 is still on despite the epidemical difficulties.
We consider that in our activity it is completely possible to respect the Health and Safety conditions.
We don't have any big gatherings in closed areas and it is easy to respect the social distanciation for artists and the public.
In 2020, the Festival will also be a competition:
The conditions have been eased,
there is no more quota per countries.
All artists that have worked
on the enforced formats for the supports,
will have access to the final exhibition and competition.
Both will take place online on our platform
www.frenchpleinairpainters.com
Therefore, a short presentation to the public in real life is considered from the 31st of August until the 2nd of September (included) in the Salon Aguado of the Town Hall of the 9th Arrondissement of Paris.
Sunday 30th of August will be dedicated to festivities and demonstrations by our guests of honnor and may be to the ephemeral exhibition, depending on weather conditions
If we want the Festival to become THE reference;
if we want it to contribute to the development of impressionism
culture in France;
if we want the Festival to federate
worldwide talents,
then we need your help.
Come and paint with us. You can also choice to donate to association to support our action for plein air painting.
Terms&conditions 2020
Before complete the process of registration you will have to check and accept the file with term&conditions;
In 2020 we have 20 places for nominés artists, when you register you can choice to submit your candidature if you have big size painting completted on plein air for the selection to be nominees. It is possible before August 10.
The nominees will have their names and links to their websites published on our site. if you have no time to form your candidature for nominees, it is possible to register as a regular participant before August 20.
Please pay your attention that all artists that have worked on the enforced format for the support, will have access to the final exhibition and competition. It is not necessary to be nominees.
Both : exhibtion and competition will take place online on the platform
You can douwload it now here : this is old version before covid – the changes are already mentinned on this page.
Click to the image to know more and to register.
Propulsé par HelloAsso