The 6th International Festival of plein air large format painting in the Loire Valley (Château d'Ainay-le-Vieil)
The 6th edition of the International Festival of plein air large format painting is well under way
at Château d'Ainay-le-Vieil in the Loire Valley.
The festival is taking place this week, from the 14th to the 19th June at Château d'Ainay-le-Vieil. Artists and visitors are welcome to come to the Château this weekend to participate.

Artists and visitors alike are welcome to come and participate in painting sessions, demonstrations and visits of the Château this weekend.
The exhibition / sale of the artworks created during the festival will take place on Saturday from 11h to 18h and on Sunday from 10h to 18h at the entrance of the Château, in the Musée des Arts et des Traditions Populaires. Entry to the exhibition is free.
The festival's organizing committee is proud to offer this opportunity to plein air painters and the public to interact with international artists, develop their skills and enjoy the beautiful scenery of the Château. Participating artists have the opportunity to paint in a remarkable setting which combines Renaissance Gardens, diverse plants and wildlife and the unique presence of water. Click here to find out more!
You can register online at the following link to participate in the Festival and to paint with 16 international nominated artists.
You are also welcome to come directly to the Château where the team will be waiting to welcome you!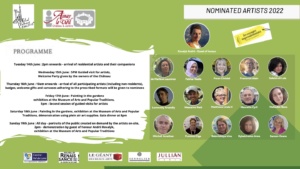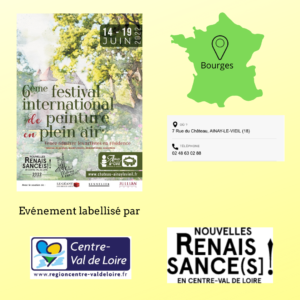 Our press kit also has all the information you need to prepare for your visit and learn more about the festival.
See you soon!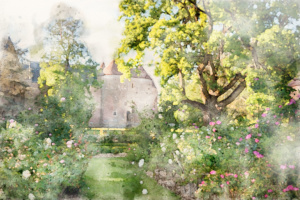 Founded in 2000 by the Russian native artist Anna Filimonova, the "Festival Cultures Croisées" acts as a catalyst for exchanges and dialogues between cultures, and stimulates the artists to encounter other talents within their field.
In 2011, a section of the association establishes themselves in Fourges (France) in order to develop the artistic activities in Haute-Normandie among which Plein Air painting workshops, attracting students and artists from various
school, theAcademy of Arts.Since 2013, the association organises a yearly international contest of plein air painting on big size canvases. 
Through these initiatives, the association confirms its calling: to encourage international and interdisciplinary exchanges in the culture and arts field of culture and arts. .
To know more, watch the presentation  different video presentaiton of our past festival's here