Plein air competition at the Saint-Cloud Hippodrome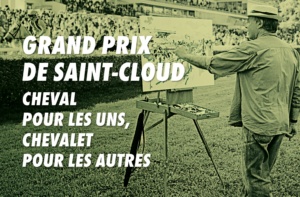 Come and participarte in our latest painting en plein air competition. The theme of the competition is "the horse".
In 2022, the « Déjeuner sur l'Herbe » painting competition, which usually takes place at Maisons-Laffitte, is moving up the Seine valley. It will take place on the plateau de la Fouilleuse, with easels being set up overlooking the Saint-Cloud racecourse.
The competition is free to enter, whether you're a professional, an amateur or just looking to try something new!
1st Prize – 1200€
2nd Prize – 900€
3rd Prize – 600€
For more information visit the website of the organisers : France-Galop