Plein air competition at the Saint-Cloud Hippodrome The July 8 2023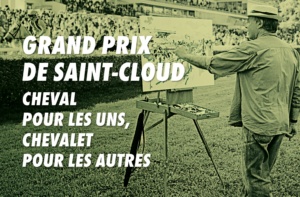 Come and participarte in our latest painting en plein air competition the July 8.
The theme of the competition is "the horse".
In 2023, this  famous painting competition  will take place on the plateau de la Fouilleuse, with easels being set up overlooking the Saint-Cloud racecourse.
The competition is free to enter, whether you're a professional, an amateur or just looking to try something new!
1st Prize – 1200€
2nd Prize – 900€
3rd Prize – 600€
For more information visit the website of the organisers : France-Galop