Virtual Exhibition from 5th International plein air painting Festival on big size canvas. with link for payement online
Welcome on our Virtual Exhibition. All the paintings are available for sale.
Here you can see the paintings created on the Festival, click on the image to see each artist personnal page with painting, and price and a link to pay online. Some artists include the delivery fees in their price, and some don't. Frenchplainairpainters.com will organize for you the delivery in any place in the word.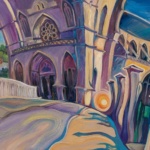 ___________________________________________________________________
Canvases completed by the artists as festival-goers, on "regular" sizes: