The 6-th International Festival of plein air painting on large format in Loire Valley ( Ainay-le-Vieil Castle)
We are happy to share the announce of the venue of The 6-th International Plein air painting Festival on big size format in Loire Valley ( Ainay-le-Vieil Castle)
"Cross Cultures Festival" Association – AFCC – is pleased to announce that the 6th International Outdoor Painting Festival  will take place in the Castle of Ainay-Le-Vieil,  LLoire Valley France, from June 14  to June 19, 2022.
The association's organizing committee sincerely hopes you will have a pleasant and successful time renewing acquaintances, making new friends and developing your craft. We hope you will enjoy your stay in the old French Castle where you will be painting outdoors in a few famous spots, such as the remarquable Rennaissance Gardens, beautiful Castle, old trees…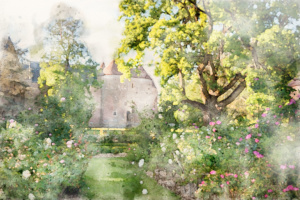 Founded in 2000 by the Russian native artist Anna Filimonova, the "Festival Cultures Croisées" acts as a catalyst for exchanges and dialogues between cultures, and stimulates the artists to encounter other talents within their field.
In 2011, a section of the association establishes themselves in Fourges (France) in order to develop the artistic activities in Haute-Normandie among which Plein Air painting workshops, attracting students and artists from
various
school,
the
Academy of Arts.
Since 2013, the association organises a yearly international contest of plein air painting on big size canvases. 
Through these initiatives, the association confirms its calling: to encourage international and interdisciplinary exchanges in the culture and arts field of culture and arts. .
To know more, watch the presentation video of the festival here